Hi Craig,
I wonder if you could help me to optimize the basket page.
I would like to make it clearer removing unnecessary steps.
Please refer to the attached screenshot and the selected fields.
You see state/province and postcode are not impotent to my clients when it comes to calculating shipping cost and tax.
My goods will be always 20% tax inclusive and I'll be calculating the delivery cost based on the shipping country.
I also would like to show subtotal TAX inclusive (only on the basket) so it equals order total.
The invoice order email confirmation, can and should show full specification.
Paulsminth.com uses Magento and their checkout is very simple and clear.
You select only a country and delivery methods are shown below.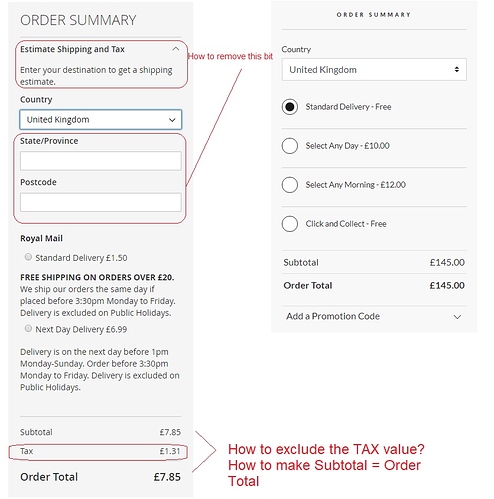 As a default, Magento shows the option only after you click on the Estimate Shipping and tax dropdown option.
Then there are 2 fields state/province and postcode shown. I would like to remove these.
Is it something you can help me with?
Thank you.
Regards,
Pawel