Where Can u find the code for this error?
Exception #0 (ReflectionException): Class Magento\Framework\Api\SearchCriteriaBuilderFactory does not exist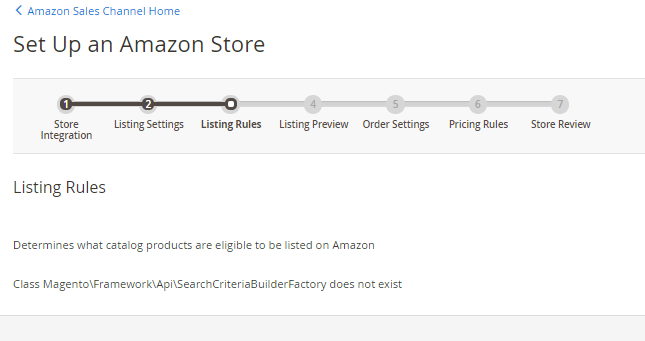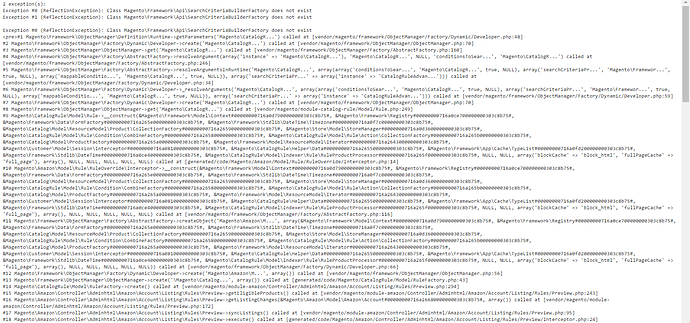 Hi,
Why don't you try M2E Pro?
I use it for last 4y with M1 and preparing to re-platform to M2.
It is very powerful tool integrating Mag with Amz, eBay & Walmart.
The module is free you'll just pay a fee which is very reasonaly £4 from £1000 turnover.
They have diferent pricing plans.
Their support is very good.
I'm not discuraging you from using the Amazon module but giving you another option which could be worth investigating.
You can install the module v1.4 directly from extension manager. I know that v1.4.1 has already been developed but waiting for magento to authorise it to be accessable via extansion manager but guys from M2E Pro give it to you if you want the newest piece of code.
I can higly recomend the product and the company itself.
Reg,
Pawel
I've never had a reason to use any of the Amazon modules. Are you using one of the modules that comes packaged with magento 2 or is this a 3rdy party module that you've installed separately?
Either way, I don't know what's causing your issue. But a quick Google search found a similar issue that might help.
If this is a 3rd party module you've installed then you'll have better luck emailing their support team.
It is an amazon module by magneto so its not 3rd party. I tried to see if i could use a free amazon module instead of buying the m2e pro.
Hi,
M2E Pro module in theory is free upto £1000 or $1000 revenue p/m.
You don't have to pay anything to test the functionality. It comes with magento. You can find it in the extension manager.
It is worth to investigate and test it.
I don't work for them and not advertising the product

Pawel