Hi Craig, I have been following the tutorials on your YouTube Playlist but now I am a bit stuck because my web server didn't come with a firewall or that's at least how it seems to be.
I don't have any firewall despite following your tutorial step by step and I used your referral code to sign up into Digital Ocean so I didn't have to spend any more money to learn Magento other than the $5 dollars to verify my account.
The video I was watching but I am stuck on:
Migrate Magento to another server - Magento 2 Tutorial
I made two droplets, one following your tutorial till the end and the other till 40 minutes as you said.
How to install Magento 2.3 (from scratch) - Magento 2 Beginner Tutorials
I went into the droplet and to network and at the bottom it says I haven't applied any firewall.
I also don't have any firewall to apply it to.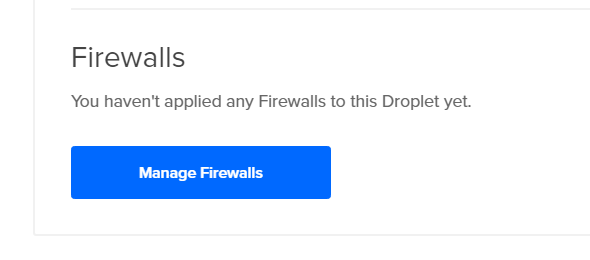 I see you writing, I created a new firewall by looking at what you had.
Except for the HTTPS since I haven't enabled SSL
I had problems to access the terminal on puTTY if I whitelisted my ip addresses in SSH so I had to allow all IPv6 and IPv4 addresses but the Droplet terminal on Digital Ocean worked fine either way.