Good morning folks
Firstly, Thanks to Craig for the Magento 2 video, by far the best I have seen. I have been running a Magento store for around 6 years now, ranging from 1.4 - 1.9. I have tried on numerous occasion to install Magento 2. but always hit far too many issues.
I have been running it on a VPS from Heart internet (2Gb), but no soon as I find a fix for one problem, I hit another.
I have decided now is the time I must make the move so following the video I have purchased a DigitalOcean account, set up a droplet ($20/month) and installed as per the video. Initially all worked well. I was able to enter the web setup wizard and began trying to install a module. (Heart VPS kept failing at dependency check due to ram despite being set at 2G). The DO server sailed through, but still failed the install. I then noticed that during the module installation the CRON issue I had before on was still there and it was no longer completing jobs and was filling up my MySql, which crashed then it. I deleted the cron jobs, restarted the MySql, was able to access phpmyadmin and empty the cron schedule, but now apache is maxing the CPU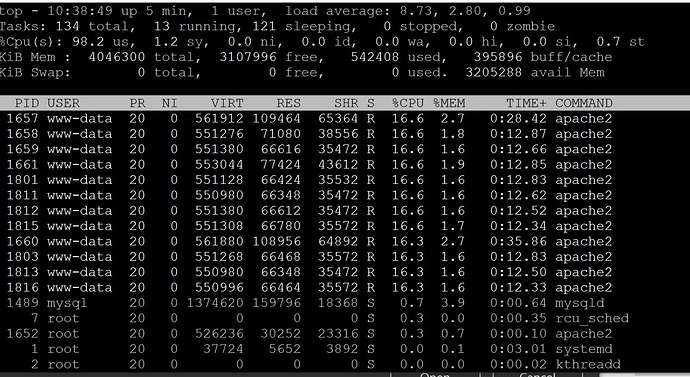 Where do I go from there, why? and how do i get more info on what is doing ?
I have tired rebooting the server but soon as log into magento same happens again.