Dear Craig and other DigitalStartup-members,
I recently found Craig's youtube-videos, and honestly I havent seen anything so well-produced and informative for a long long time. As a young woman in the tech-biz I am very honored to be a member of this community and I hope you can help me here.
I try to install the Klarna Checkout (NOTKlarna Payment that is already pre-installed with the Magento-version-2.3). Klarna Checkout is a fixed solution that takes care of the whole shopping cart experience, popular in Scandinavia. Anyway, I face a problem in this installation in the Readiness Check in Web Wizard Setup as this photo: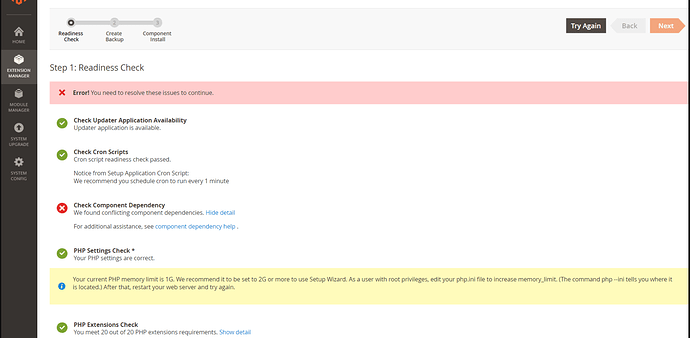 The Check Component Dependancy is an error. There is no explanation of the error in the error log, from what I can read.
Firstly, how to solve this error? A honest developer I have been in contact for a year (found on Fiverr) says this is a conflict error and to install the Klarna Checkout he wants to go through the composer instead and then he needs sudo access chmod 777 to almost all root files. This I know is a security risk and it shouldnt take this to install a payment menthod? Klarna support confirms that it doesnt need to be done that way, it should be done thorugh the web wizard setup. Please advice, any idea where to start to solve the Check Component Dependancy error?
Thanks.