Dear Craig,
I successfully installed magento 2.4 following your amazing "How to install Magento 2.4 and build a web server - Magento 2 Tutorial" video. THANK YOU! Very very very much appreciated
Now I'm going through your "Let's build a Magento 2 store (Series 1)" playlist and I want to install a Let's encrypt SSL certificate. Unfortunately I couldn't find a detailed video from you explaining how to do that on Ubuntu 20.04 (Digital Ocean).
I did find a "How To Secure Apache with Let's Encrypt on Ubuntu 20.04" tutorial on Digital Ocean's website: https://www.digitalocean.com/community/tutorials/how-to-secure-apache-with-let-s-encrypt-on-ubuntu-20-04
But I'm stuck at steps 2,3 and 4. Honestly, I don't know what I'm doing. In step 4 I get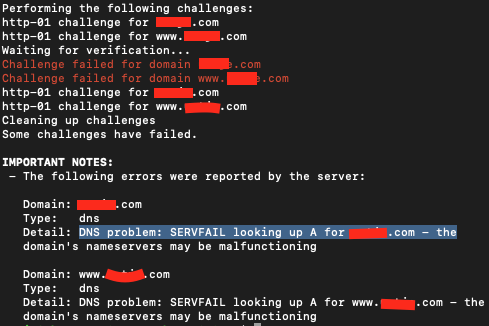 So I'm at the point where I have a fresh install of Magento 2.4 after following your Digital Ocean tutorial. I have the nameservers set up correctly, plus two A-records set up correctly to the droplet IP, one for domain dot com and one for www dot domain dot com. The only setting I made in Magento 2 admin panel was changing the base url's to my domain. So when I go to (www.)domain dot com I see a clean magento install.
Would it be possible to guide me through the installation of Let's encrypt on Ubuntu 20.04?
Thank you so much
WJ