Hi Craig, I was trying to set up new site map at back-end of Magento 2.4.4.
Back-end of Magento 2.4.4 shows "Please make sure that "/" is writable by the web-server."
Here attached the details of my Equipment Set Up:
Dedicated Server at Google Cloud Platform (GCP) with
Ubuntu 20.04.4 LTS (GNU/Linux 5.13.0-1024-gcp x86_64)
Apache/2.4.41 (Ubuntu)
PHP 7.4.3 (cli) (built: Mar 2 2022 15:36:52) ( NTS )
Setup follow direction on How to install Magento 2.4 and build a web server .
I already updated Magento system from 2.4.0 to 2.4.4, met the same problem at Can't setup sitemap but I can't solve it by running the commands sudo chown magento:www-data /var/www/html and sudo chmod 775 /var/www/html as the superuser "god" from within any directory.
User "god" is the superuser as "craig"
User "magento2" is the user as "magento"
The results of ls -la are same after running the above commands by those 2 users and
User "god"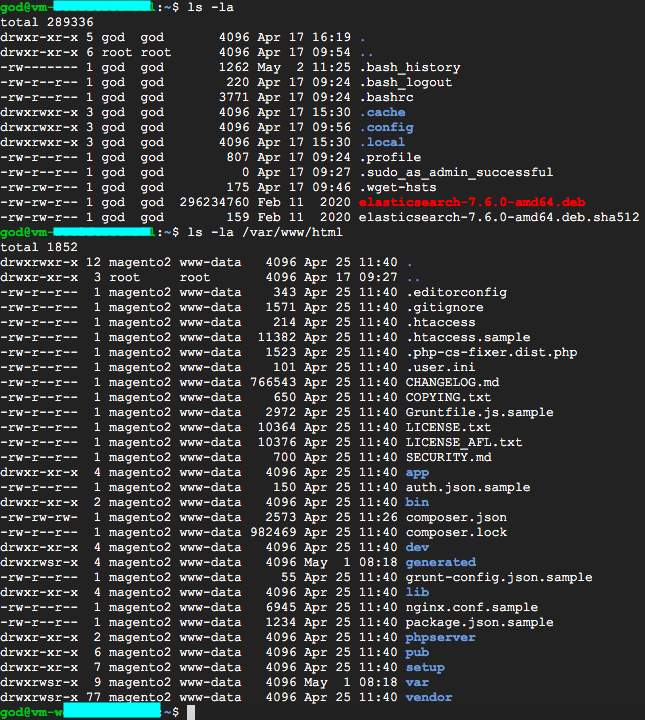 And I found that the "elasticsearch-7.6.0-amd64.deb" shows in red color when I was logging in as superuser "god".
Is this folder abnormally large or has an error occurred? Please let me know the solution of setting up the sitemap and turn the folder "elasticsearch-7.6.0-amd64.deb" to normal for stable operation in the further.
Thank you very much!