My Setup:
Ubuntu 20.04.1 LTS
Apache 2.4.41
MySQL 8.0.22
PHP 7.4.3
Elasticsearch 7.6.2
Java 11.0.9
Composer 1.10.16
Magento 2.4.0
Skipped postfix part and disabled TwoFactor_Auth module
Products are synced every 6 hours from third party vendor (Inventory Source), through API, around 100000 products in total, I verified that products are loaded into database.
Shared or Dedicated Server ?
DigitalOcean droplet with 40/mo plan 80GB SSD/4vCores/8GB RAM
Did you setup the server or install Magento yourself ?
Yes to both
What I'm trying to do ?
Display products on the homepage and various categories, when i clicked categories and subcategories.
What happened ?
No products are being displayed.
On the homepage I get this: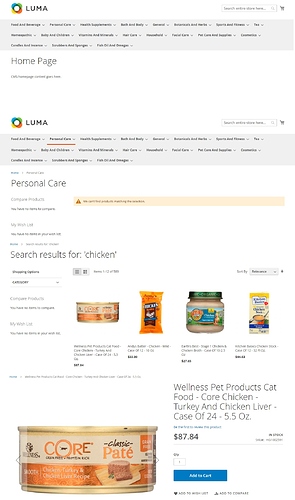 I get products when I do search, and when I click on a particular product, it gets displayed correctly.
I merged 4 images into one, as new accounts are allowed to attach only 1 file.
I think I am missing a basic setting, please help me.
Thank you so much.