Everything You Need to Create Your Stunning Website. According to Wix, over 100,000,000 customers from 180 countries found these words to be true. As one of the best drag-and-drop website builders, it works great for bloggers and small business owners. But is it also a viable option for eCommerce entrepreneurs? That's what I'm going to find out in my in-depth Wix review & guide.
| Criteria | Score | Pros | Cons |
| --- | --- | --- | --- |
| Value for money | 7/10 | Super easy to use | Not eCommerce focused |
| Ease of use | 10/10 | No commission Fees | High startup costs |
| Support | 7/10 | Lots of Apps | Lacks flexibility |
| Features | 8/10 | Great community | |
| Flexibility | 6/10 | | |
| Scaling | 5/10 | | |
| Try Now | | | |
Part 1: Introduction to Wix
Before we dive into testing its eCommerce potential, let me quickly introduce Wix, especially to those who never heard about it or are not sure how it works. Later on, I will discuss its eCommerce features and provide you with a step-by-step guide on setting up a simple online store. Finally, in the last part, I will summarise my thoughts in a list of Wix's advantages and disadvantages.
What is Wix?
To put it in a nutshell, Wix is a platform which you can use to build and host your own website. If you are just starting out, it's a perfect pick to set up your first site because you don't have to worry about anything. There is no coding or configuring the hosting involved.
At the same time, there are many excellent customisation options, which means you can build anything from a simple About Me site to a full-blown online business of nearly all shapes and sizes. Including eCommerce – and that's what interests us the most.
Is Wix exclusively for eCommerce?
The very first thing that you notice when you visit their homepage is that there is no mention of eCommerce at all. The only indication that you can build a store using Wix is a link at the very bottom of the page named Online Store . When you click it, you get taken to their actual eCommerce page WixStores :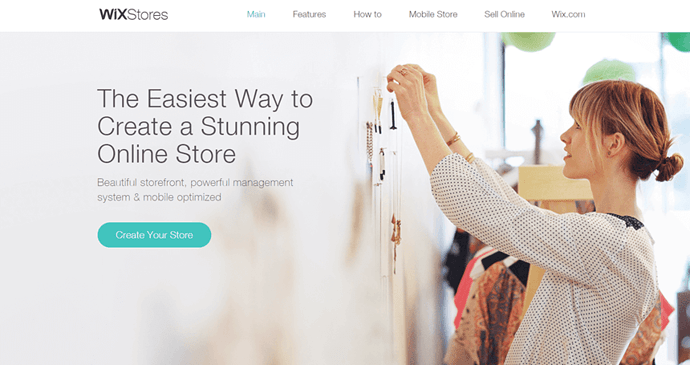 But, the fact that you have to look around for the eCommerce option won't surprise anyone who knows Wix. Why? Their main target group was never the eCommerce entrepreneurs. Most people choose Wix because it's an intuitive and newbie-friendly platform. To set up their website, Wix users don't have to code and can just drag and drop everything thanks to one of the best drag-and-drop builders out there. Of course, you can use the very same builder to set up your online store!
What about pricing and hosting?
Every Wix account includes a hosting package. Note that because of the uniqueness of their CMS (content management system), once you set up a website using their platform, you can't migrate anywhere else. Any migration would require recreating the store from scratch. On the other hand, if you host your store with Wix, you don't have to worry about anything. Of course, they'll charge you for that.
There are five different pricing packages in total. To get the online store, you need to buy their 4th most expensive one – eCommerce plan or the top one – VIP plan. Both are priced at $17 and $25 per month respectively, assuming you pay for a year upfront. If you want to pay on a monthly basis, the price goes up to $20 and $30: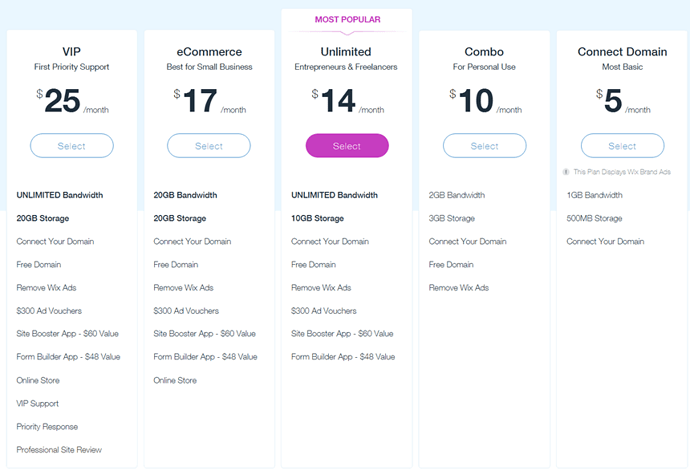 This can make the starting cost pretty steep compared to other platforms. What's the difference between the two packages? The eCommerce plan comes with just 20GB per month, what can quickly dry out, especially as you scale.
Luckily, the VIP plan allows you to drive unlimited traffic to your site and comes with other great perks such as VIP support and a professional site review. Considering how many other customers the platform has, a premium support will definitely come in handy.
But, even though the starting cost might be higher compared to other platforms, there's one huge advantage to using Wix – no commissions on sold items . You pay them their monthly fee and they don't care whether you sell one or 10,000 items. The price stays the same.
Does Wix offer a free trial?
Sadly, the biggest Wix drawback related to its pricing is the fact that there is no free trial. At least not a classic one. There are two things which you can try. The first one is a free account, which you can use indefinitely, but which comes with a highly reduced number of features (and there's no online store). To enjoy everything that Wix has to offer, including its eCommerce features, you have to invest some money up front.
Luckily, if you choose the monthly billing option, you don't have to break the bank to do the test. And, if you don't like what you see, you can always ask for a refund. Because there's no typical trial, the process is very simple:

But, there's a catch. Only your first purchase can be refunded. This means that if you upgrade for the second time, you have only 14 days starting with the initial upgrade date to cancel. After that, you can't ask for your money back. Also, any upgrades such as domain names, mailboxes or app market purchases are not included in their refund policy.
What's Wix support like?
Considering their target market consists of people who have little technical skills and just want to focus on building their business, Wix had to offer them a great support. Otherwise, a big chunk of its customer base would move elsewhere. There are three ways in which you can look for help and a few "extra" things that might help you, but won't be your first choice in case of an emergency.
Wix Help Center
This is where you should go in the first place. There are hundreds of topics organized into categories such as Billing , Domains , or Wix Stores followed by many other. You can browse them manually or use a very convenient internal search engine. Just type your keyword and get the answer to your question immediately. It will also provide you with suggestions as you type, helping you nail the right answer even faster.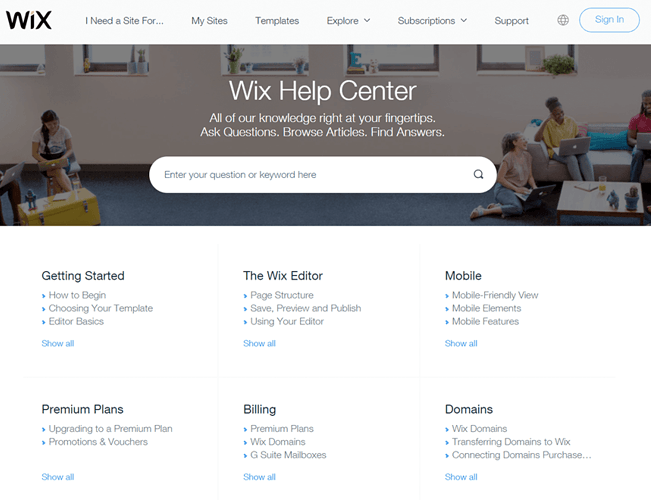 Wix Blog
The second place where you can look for information on running a Wix website or store is their blog. The posts include a lot of great tips which you can use to solve some of the technical problems or adjust your marketing or eCommerce strategy.
The blog is split into six main categories with a few of them having additional sub-categories. As an online entrepreneur, you will spend most of your time reading content in the Small Business Tips and eCommerce ones. The first one covers a wide variety of topics including productivity, marketing (both strategy and educational articles) as well as tips on building websites for specific types of businesses.
Because Wix customer base is made of a variety of business owners, some of the articles won't apply to your online store. Luckily, the second mentioned category – eCommerce – is all about businesses just like yours. The only drawback is that it's not updated that often, and has just a few posts in it.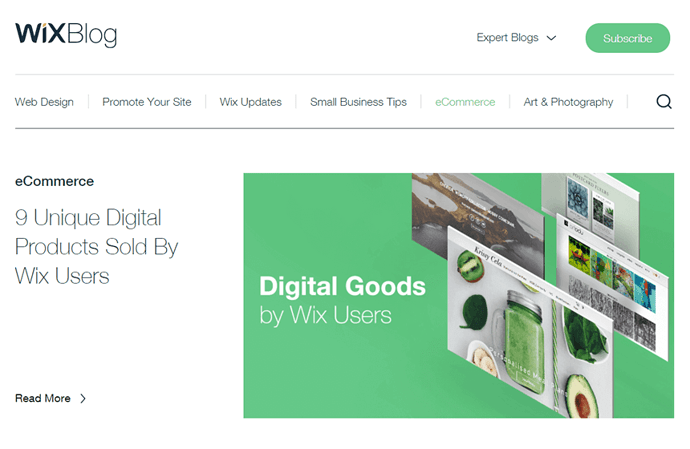 Wix Support
Not all solutions are available on their website. Some problems apply to your particular situation only. In this case, it's a wise thing to contact their support. There are two ways in which you can do that – by submitting a ticket and getting an answer via email or by requesting a call back from their call centre.
Unfortunately, while they offer a 24/7 email support, their call centre is open Monday – Thursday 6 A.M. – 5 P.M. PST only. Also, submitting a ticket is not that easy. To do that, you need to go to the Wix contact page, scroll through the most common issues listed there, and then choose to submit a ticket.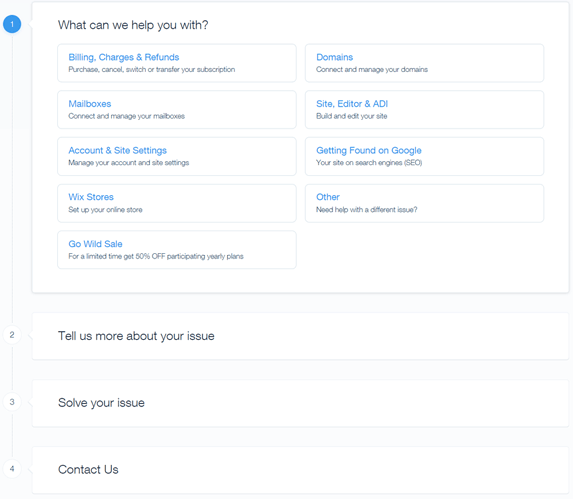 Extras: Wix Stories
The next section of Wix website that might provide you with some help in running your business is "Wix Stories". While it's not designed to help you solve your problems directly, it can provide you with some inspiration and guidance.
Sadly, there are not many stories that come from entrepreneurs involved exclusively in eCommerce – the only ones I've found come from local businesses that made eCommerce one of their distribution channels. Moreover, the stories are usually short, covering only one or two critical aspects of online presence.
Extras: Wix Lounge & Wix On the Road
If you live in New York and are thinking of setting up your own eCommerce store using Wix, you'll love their free co-working and event space – WixLounge. It's free for Wix customers, and its only drawback is the fact that you'd have to live in New York to visit it.
But, if you happen to be there, working with other aspiring entrepreneurs using the same platform who might have similar goals is an excellent way of brainstorming new ideas and learning.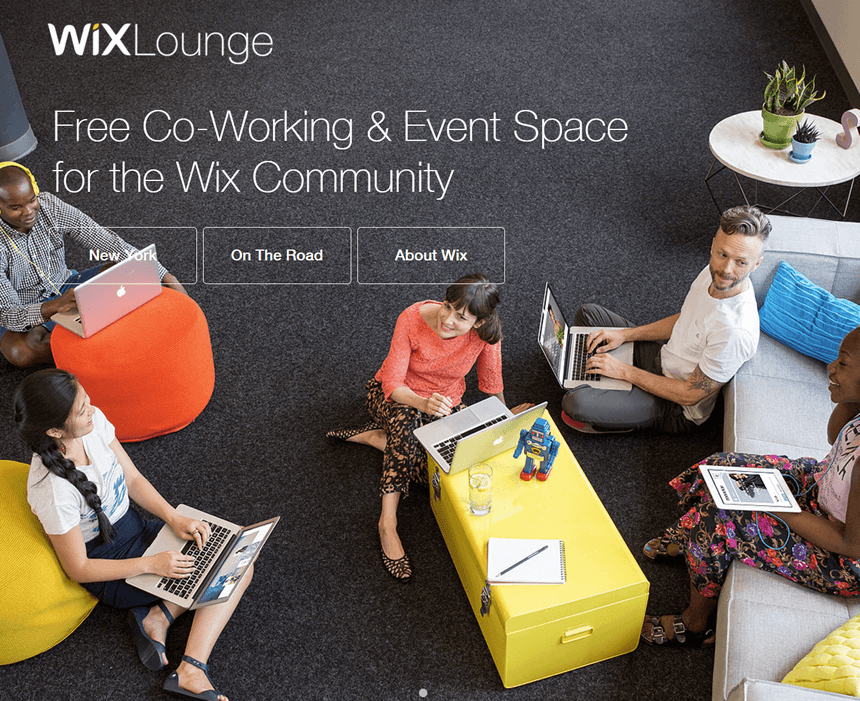 And what if you are not from NY or even from the US? From time to time, Wix holds workshops and other events all around the world, including London or Manchester. While it's not the same as a co-working space, every event is attended by entrepreneurs who use Wix. It's an excellent chance to network and get some inspiration.
Extras: Wix Arena
If you have the budget but don't have the time to learn everything and design everything from scratch yourself, you can hire an experienced Wix designer to do that for you.
Thanks to Wix Arena, you can find all of the best professionals in one place – no need to search online on other freelance platforms or sift through tens of random applications. You can view the portfolio and sample Wix-based work of any designer you want and contact them directly.
Are there any tools to help me run my business?
Wix is a platform dedicated to small business owners. Because of that, they have a tremendous number of features aimed at those who need a professional online presence for their business. But are these features useful for eCommerce entrepreneurs?
Absolutely. The platform gives you access to tens of tools that can help you get control over every aspect of your online website. From SEO tools to plugins (called add-ons) which you can add to your site, such as customer reviews, live chat, social media add-ons and even… an easy way to add a Shopify store to your website.
Of course, if you want to run a full-blown store on Wix, it's probably better to stick to WixStores . On the other hand, why would Wix allow integration with one of its biggest competitors, if it has its own online store system? In my opinion, this only proves that eCommerce is not their primary focus.
Is Wix safe for eCommerce?
As a business-oriented web hosting platform (because, in the end, one of the main Wix services is hosting), they are obliged by law to provide certain security measures for every customer. But, considering the nature of eCommerce business (credit card processing, personal data storage), those requirements are a bit higher when you run an online store, compared to owning a static website with no forms on it.
Luckily, for those who would like to start their e-business adventure with Wix, the platform introduced all the major security measures:
PCI Compliance – Wix is compliant with the Payment Card Industry Data Security Standards. This means that the environment in which cardholder data is processed is secured, and the risk of credit fraud is highly reduced.
ISO Compliance – the platform is also certified as ISO 27001 and ISO 27018 compliant. These mean that they follow industry best practices for managing security risks and handling of personally identifiable information (PII).
TLS Certification – the platform utilises Transport Layer Security (TLS), which encrypts the data and helps protect online financial transactions of your customers.
While this might not sound like much, the company is compliant with all of the industry security standards. As a big enterprise, Wix has a full-time security team at your service. They also perform frequent scans looking for potential vulnerabilities and educate business owners on the safe Internet use. This includes alerting them of potential phishing attempts or other issues targeting Wix users.
Do I need coding skills or anything like that to set up a Wix store?
Although I talked about this a few times throughout the article, I decided to add this point anyway – for all those who might be just skimming the article. If you just stopped scrolling and would like to find out whether Wix is a good pick for beginners, the answer is yes.
Moreover, even though the platform is suitable for running a big online store, it boasts with great user experience and very easy setup. Of course, if you are completely new to this stuff, there will always be a slight learning curve – but when it comes to Wix, it shouldn't take too long for you to understand how the platform works.
5 stores that use Wix
The majority of websites built on Wix are that of small and medium-sized businesses. In the end, this is what Wix is intended for. Their eCommerce feature is quite new, and not as popular as some other choices. Nevertheless, there are a few quite interesting stores set on Wix that are worth sharing:
This Australia-based store is a perfect example of what Wix is all about. The couple running the store, sells a variety of handmade products made out of (usually a mix of) timber, copper, glass, beeswax or concrete. Their Wix store is clean and very easy to navigate. The products are presented in a very enticing way, and go very well with the brand they've built: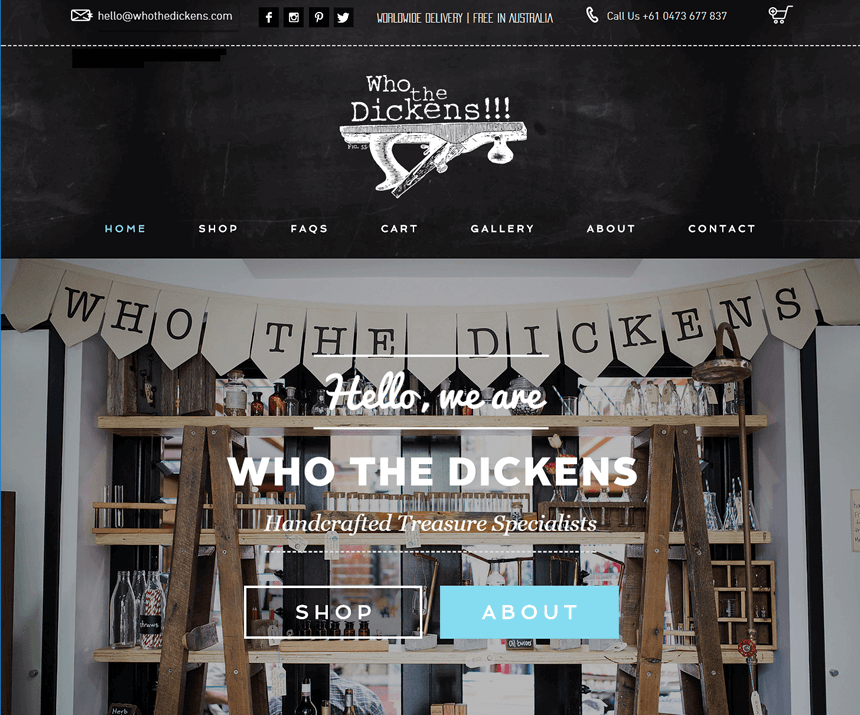 The second store is frequently named as one of the best examples of what a Wix eCommerce store should look like. And it's no surprise it's excellent. While the product is, without a doubt, the main driver of success (figurines of famous historical people, plus some extras such as prints, pins and T-shirts), the store is managed by Wix employees who know what they're doing. If you want to see what a good Wix online store looks like, make sure to visit Piece of History :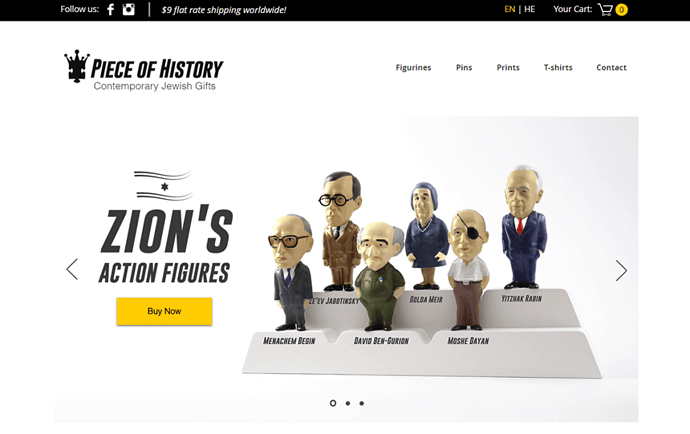 No, the name is misleading – you won't find there any shady deals on products of unknown origin. Instead, you can find bags, clothing and accessories. All products are designed and illustrated by two sisters based in Tel Aviv. An excellent example of what a small business with a mix of passion can look like: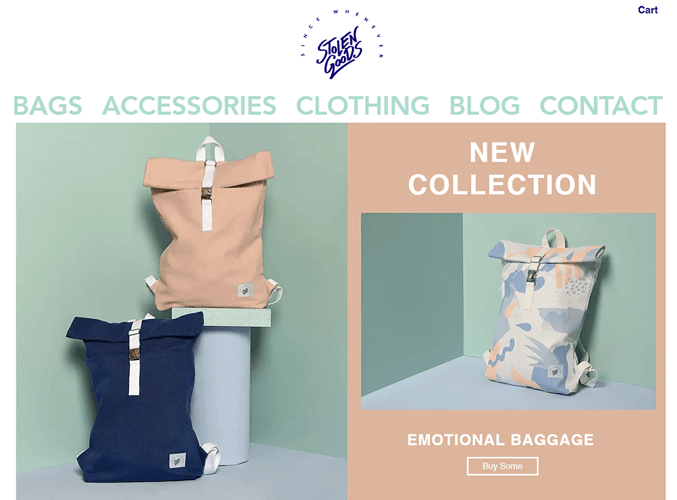 BeardTamer – Wix Stunning Awards Finalist
This next example is available only in German, as it's owned by a Switzerland-based company, with a target market in German-speaking countries. But I could not go next to it without including it in the list. Excellent branding and eye-catching design – something you can't miss, no matter what platform you'll end up using: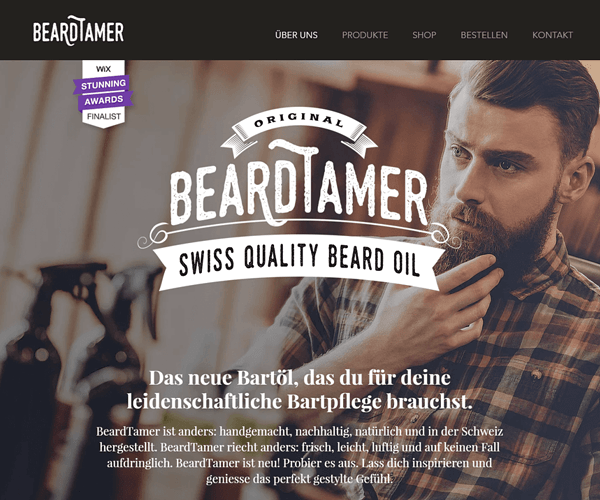 Resurrection – Wix Stunning Awards Finalist
While it's yet another store with handmade products (clothes and jewellery), it's also a Wix Stunning Awards Finalist. And, after browsing the store, I have no problem telling why. It may look too dark for some, but the presentation of products and the branding look great with its black background and dark colours. If you're looking for inspiration and something different, don't forget to pay this store a visit:
Of course, there are many other stores. But the biggest problem I had with Wix is the fact that the vast majority of stores I've found sell handmade products. Of course, you may also be looking to sell your handmade products. In this case, that's great, as you might find some inspiration. Nevertheless, I was unable to find a store that would be selling high-ticket items, what I consider a big disappointment.